Welcome back to school after the Christmas holidays. I hope that you all had a lovely break! This term is going to be busy with lots of exciting learning opportunities and memorable experiences. I know how much the children are looking forward to learning about the Vikings.
Were the Vikings victorious or vicious?
This is the big question we will be seeking to answer. Children will have the opportunity to explore important events that took place during the Anglo-Saxon and Viking age. Year 4 will delve into the life of Viking settlers and warriors. Furthermore, we will discover and unpack the impact the Vikings had on Britain today. As well as lessons in school, the children will experience an educational visit to deepen their learning.
Please read on to find further information about the fantastic work we will be doing on our latest topic as well as general routines in Year 4. If you require any further information then please feel free to pop in and see me or write a note in the message book.
Mr Coleclough
Our topic this term is...
The Vikings!
Please click here for this year's curriculum map!
What Wonderful Things Will We Be Doing?
Whilst keeping this term's topic as cross-curricular as possible, the main focus for our learning will be very much history based.
English - Throughout the term, the children will be writing a range of different genres. We will delve into non-fiction texts, including newspaper reports. Within this topic we will be focusing on adventurous vocabulary and using a range of sentence structures. Our fictional narratives, will be based around myths and legends.
Maths - Multiplication, division and fractions!
Science - Did the Vikings look after their teeth? We'll attempt to find out in our Science topic 'Humans and Animals!'
RE - Using comparison skills, we will compare the differences between Viking beliefs and the beliefs of the four main religions of the day.
Art and Design - Children will attempt to create their own Viking longboats, weaponry and cartoon vikings.
Geography - This topic will allow the children to name and locate counties and cities of the World where the Vikings originated from and where their invasions and raids took place.
Physical Education - Through invasion games and viking dance, the focus for this term will be on the ABC of Sport: Agility, Balance and Coordination.
Who is Our Class Author?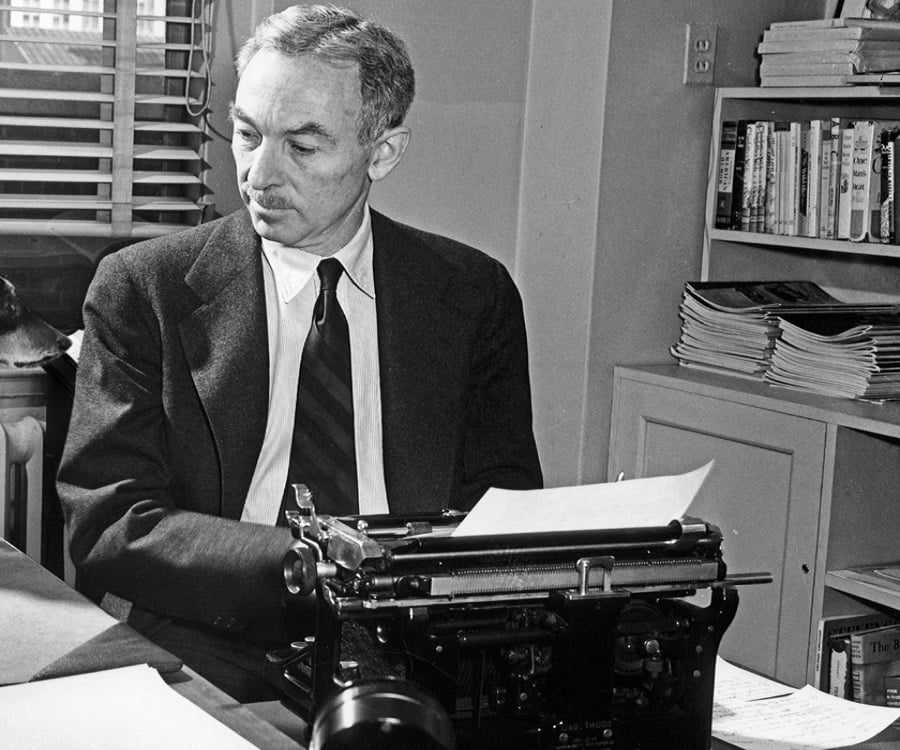 E.B. White
Author of Charlotte's Web and Stuart Little
Our focus text for the first half term is...
Times Table Practice
Generate your own times table tests:
http://www.timestables.me.uk/printable-pdf-quiz-generator.htm
Copy the link below to help with your multiplication practice. There are lots of games to choose from...
www.topmarks.co.uk/maths-games/7-11-years/times-tables
Children in Year 4 receive the following homework:
English (on a weekly rotation)
Mathematics (on a weekly rotation)
Spellings (on a weekly basis)
Learning Log (on a half term basis)
Times Tables - please work with your child on learning their times tables. We focus on a different one from the 4, 6, 7, 8, 9, 11, and 12 every two weeks.
All homework should be handed in on time unless otherwise agreed with the class teacher.
The children have two P.E sessions each week; one on a Tuesday afternoon and one on a Wednesday afternoon. We recommend kits are brought in a Monday and taken home on a Friday.
Children should have both an indoor and outdoor kit in case of inclement weather during the colder months.
Girls with long hair should tie it back and all jewellery, including earings, must be removed for P.E.
Any child who does not have a suitable P.E kit may be asked to complete alternate work.
Children receive one guided reading session with the teacher every week. Aside of this, they have follow up sessions which are linked to their text. They will also have the opportunity to participate in SPaG (spelling, punctuation and grammar) activities during guided reading sessions. I will endeavour to read with your child during any quiet reading time throughout the day but I cannot stress the importance of your child reading at home with you as much as possible.
Outside of school, we ask that children are read with 3 times a week. If you would like any extra support in how to get the most out of reading with your child, please do not hesitate to come and speak to me.