Welcome to Year Five and Mrs Clarke!
A very warm welcome to all parents and children. I am incredibly excited about our new term, and hope you are too!
This page contains information about the topic we are learning about in school and the different activities that we are going to be covering during the term. Each term the page will be updated with the latest information and a brief overview of the learning that has taken place. I have also included information on the weekly routines that take place over the week.
I hope that you find the information on this page useful and if you have any questions or queries, then please do not hesitate to pop in and see me at the end of the school day or contact me via the messages book located at the front office.
Please click here for this year's curriculum map!
The Earth and Space
This term, our very exciting topic is Space. The children will get chance to go on an incredible, galactic journey and explore our place in the universe.
English
Our focus text this term is Cosmic by Frank Cottrell Boyce. It's a funny, engaging and rather moving story that I'm sure the children will enjoy. The topic of space is so enormous and lends itself perfectly to a huge range of writing genres; we will be writing narratives, instructions, non-chonological reports and many more fabulously detailed, descriptive and entertaining types of texts. We will also be exploring and performing poetry by published poets as well as our own creations.
History
We will be considering the reasons for space travel and investigating a time-line of these historic journeys and the astronauts in detail. The children are seated at tables named after famous astronauts, so there will be a particular focus on the incredibly achievements achieved by these historic icons.
Science
May the Forces be with you!
We will be investigating forces, looking at how to explain that unsupported objects far towards the Earth because of the force of gravity acting between the Earth and the falling object. We will also be looking at eh effect of air resistance, water resistance
and friction, that act between moving surfaces.
Obviously, this topic is a science-heavy theme. We will be looking at the movement of the Earth, moon, and other planets, relative to the Sun in the solar system, looking at the idea of the Earth's rotation to explain day and night and the apparent movement of the sun across the day.
Art and Design
Art and design is a passion of mine, and I try to integrate as many creative opportunities for the children as possible. One of our key projects this term, will be painting space themed pictures in the style of the famous artist Peter Thorpe, using abstract art backgrounds and space features in the foregrounds.
Times Tables
Year Five wrote this poem together. I was SO impressed and we wanted to share it with you all!
Space Art
Is there no end to your endless star sketches?
Each time I blink, I see a new picture.
A city of crystal caves.
A patrolling platoon of parrots.
A tribe of twinkling tigers.
Scraping roller coasters so high and steep.
We dance in the ballroom of a mysterious star blanket.
Then, in a cosmic change of mood,
You wipe your canvas down to its own sky-black
Soon, ships are sailing over me
An elephant is swimming in a pool of diamonds
Why not a stray star cat, to follow me home?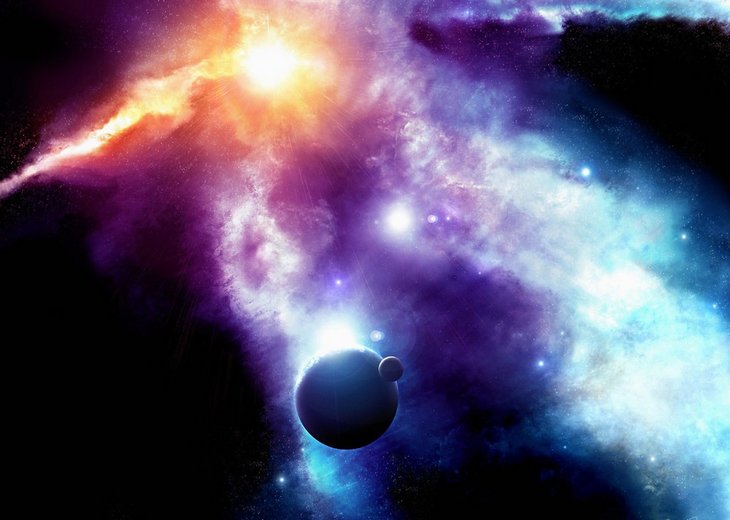 Reading
Each week the children take part in a focused guided reading session with the class teacher. We will work together in this session to read extracts of text and develop our deduction and inference skills through specific and targeted questions. A follow-up activity will take place the next day to consolidate the children's learning.
In Key Stage Two, we strongly encourage parents to continue to read with their children regularly (at least 3 times a week) and write comments in the child's reading diary. I will collect the diaries on Thursdays for marking, and hand them back out on Fridays ready for the weekend.
P.E. Lessons
Two P.E. sessions take place throughout the week in Year 5. P.E. lessons usually take place on a Tuesday and Thursday. However, due to timetabling changes these lessons may alter. Therefore, please ensure that your child brings their P.E. kit with them on Monday morning and they will take them home on Friday afternoon.
During the Winter months, it is advisable that children bring with them warmer clothes for outdoor sessions.
Please ensure that all P.E. clothing is labelled clearly, to ensure that all items are returned to the rightful owner!
Homework
Homework is set on a regular basis in Year 5. All children will receive spellings and either an English or maths piece of homework each week. The homework will outline clearly when the homework has been set and the homework task. Homework, spellings and times tables are handed out every Friday afternoon and are to be returned the following Friday.
Learning log homework is set on a half termly basis. This homework will pose a question for the children to research and answer. The children can present their answer in any form that they wish. If children do create powerpoint presentation, they can be e-mailed to the office on admin@littleleighprimary.cheshire.sch.uk